Turn Your Supply Chain Into a Safe,

Intelligent and Reliable Data Engine.

ShieldCor optimizes your safety program to improve operations and profitability.
Protects Your Bottom Line by Optimizing Speed, Risk and Profit
ShieldCor optimizes your company's safety program with advanced data analytics to protect your bottom line. This user-friendly suite of supply chain solutions is optimized for dependability, risk aversion and ad-hoc data analysis to connect and optimize your entire operational infrastructure. ShieldCor provides greater intelligence, real-time data and enhanced partner visibility to transform the efficiency of your operations and the effectiveness of your partnerships.
Learn how Vertikal solutions like CertFocus can help your business become more efficient and effective in managing the insurance, financial and safety requirements of your supply chain.
ShieldCor Is a Safety Optimization Solution
Identify Unrealized Potential
Spot new opportunities for efficiencies and deeper risk insights to optimize your operational infrastructure.

Gather live intelligence on your processes as they happen to improve accuracy and reduce risk.

Collect, compile, analyze and store data while promoting security, authorized access and communication.

Stronger reporting means greater protection from the risks of process deficiencies and potential issues and exposures with outside business relationships.

Deep insight provides the rationale for safety-based, Go/No-Go operational decisions.

Monitor operations through real-time data any time.

Customize your configuration with maximum flexibility.

Easily manage ongoing business identity certifications, including MBE, WBE and more.

Base decisions on timely, accurate and reliable information.
ShieldCor's proprietary analytics platform, helps you identify opportunities to improve operations across your supply chain using high-speed data ingestion, advanced analytics, and strategic data visualizations to help you make better managerial decisions.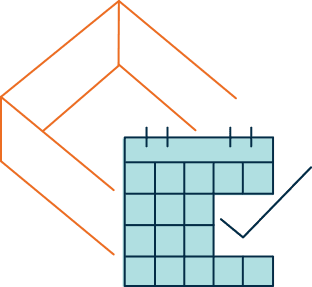 It's Not Just About Safety.
It's About Profitability.
Developing an effective safety ecosystem is critical for any organization regardless of size or business activity. But your business is unique with infrastructure and process that are as individual as a fingerprint. That can make optimizing the efficiency of your safety program a technical challenge at best and a financial burden at worst.
At Vertikal, our ShieldCor solution gives you the robust customizable technology you need with the services and expertise you want at a price you can afford. Our team brings the experience, technical resources and support to create, deploy and integrate a stronger safety ecosystem to meets your company goals while exceeding your expectations.