PreQual Is a Full-Service

Financial Analysis Solution

Discover the difference expert financial analysts can make to your prequalification process.
: The Features You Want. The Performance You Demand.
As a full-service solution, PreQual offers everything you need to enhance your prequalification process. This powerful, configurable platform allows you to easily modify your software and services to meet your company needs.
Your solution is unlike any other. Verikal makes it possible.
Easy to Integrate. Simple to Operate.
PreQual is compatible with your plan rooms, accounting and project management systems making it easy to install and adopt, even across multiple departments. With helpful PreQual features, you can shed the administrative chore of collecting and managing required prequalification data, while making your processes more accurate, efficient and effective.

Personal Touches
Personal, human outreach to your third parties
Administrative assistance directs data updates and follow-ups
Receive professional and personal customer service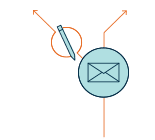 Customizable Elements
Use our flexible email templates for your branded email communications
Create custom forms with the data fields most important to your company
Get detailed focus risk scorecards with software that is fully configurable to your required KPIs

Automated Tasks
Check the credit worthiness of your potential third-party relationships
Monitor regular tracking of vendor, supplier and third-party contractor financial exposure
Award contracts and projects to qualified partners easily
Access to single project limits and aggregate exposures

Professional Insights
Senior financial manager assigned to support your account
Expert financial analyst review of collected materials determines qualification rating
Unparalleled financial underwriting and screening expertise
Objective and reliable scorecards
Database Creation
Actionable database contains all third-party information
Unlimited storage capacity with easy, web-based access
Choose to keep your data on a standalone server for added protection